There's a kind of misguided conventional wisdom going around right now about item descriptions. Since eBay is shifting toward product-centered commerce, this thinking goes, and since item descriptions are now often an extra click away, they don't matter any longer.
This isn't true. Sure, there are now buyers that may purchase without ever seeing an item description, but now you also know that when buyers do click, they're very specifically looking for more product information before making their purchase.

Even on the new product-based commerce eBay, some shoppers will want more details.
If you want to make the sale, it's your job to give it to them.
Templates Don't Get You Off the Hook
inkFrog offers hundreds of beautiful designer listing templates for use on eBay, but don't imagine that choosing a great template for your listing performs the same function as a well-crafted item description.
Depending on what you put into your templates, they can tell buyers either far more or, at the other extreme, not much more than what they already know about your product.
For best results, you want "far more" to be the case for your listings.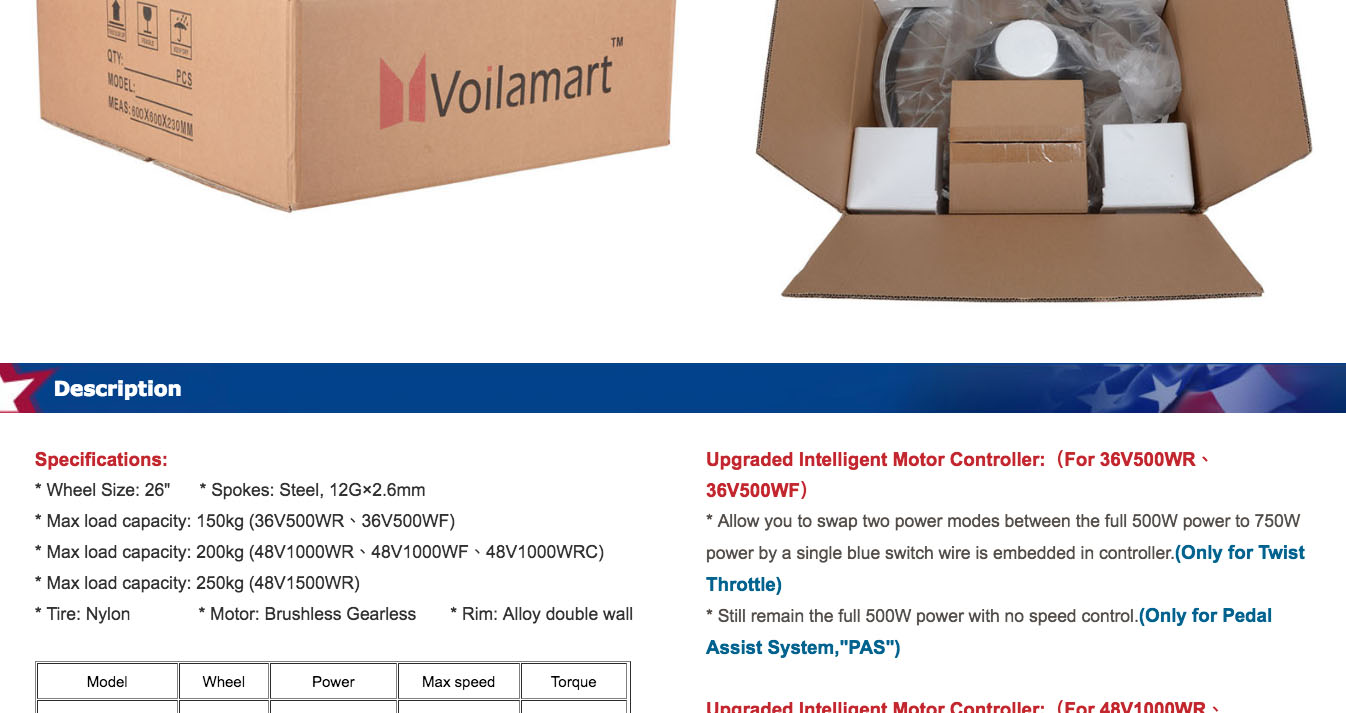 Even visual listings using nice templates need to provide detailed information.
Crafting a Useful Item Description
It takes care, thought, and at least a little bit of elbow grease to craft item descriptions that will help you to turn shoppers into sales. Here's a general outline of what you should include:
Complete product identification details. This includes not just the make, model, and possibly size information that you put in your listing title, but part numbers, variation identifiers, version or revision information, or anything else that will help a shopper to identify exactly which product is being sold.

Complete condition information. Not just one word or one sentence here, but enough detail to make the condition of the product and the packaging in which it will arrive very clear.

Meta and other useful information. Product specifications, use cases, preliminary help or support information, or anything else what will help your shopper to make a decision about your product are useful here.

Caveats. Anything that shoppers are likely to misunderstand or make mistaken assumptions about in your listing also belong here.

Summary of terms. Even though your shipping and returns terms are spelled out elsewhere in your listing, forcing shoppers to click away to see them makes your listing harder to use. If your terms are favorable compared to other sellers, you also want to foreground them rather than hide them in other parts of your listing.
The challenge is to include some or all of this information in such a way as to make it accessible, readable, and not overwhelming.
Examples
Let's take a look at two examples drawn from very different eBay categories. Here are the products:
Used Tamron 28-105mm f/4-5.6 zoom lens for Nikon mount cameras

New Enerwear men's trail socks, six pack
Let's tackle the lens first. Compare these instances of item description text, both for the same product:
Description A

Used Tamron 28-105 lens f/4-5.6. For Nikon mount. Great for portraits or family action shots. Lens is in good condition and takes good photos, all rings and mechanics work. No scratches or haze on glass. Rubber grips are in good condition, not worn or stretched. Uses 62mm filters, 2.8" when mounted and 4" when fully extended. With caps and hood. 100% working, buy today!

Description B

Used Tamron 28-105mm zoom lens for Nikon mount cameras. Great for portraits or family action shots!

Specifications

Model: Tamron 28-105mm f/4-5.6 AF for Nikon
28mm-105mm focal length
f/4-f/5.6 minimum aperture
62mm filter size
19.7" minimum focus distance
Internal autofocus
2.8" mounted / 4.0" fully extended
Lens sharpness rating: *** (of 5)

Condition and Accessories

Previously owned, fully functional
All glass scratch-free and haze-free
Rubber grips not worn or stretched
Includes front and rear lens caps
Includes lens hood
Condition rating: **** (of 5)

Shipping and Returns

Free priority shipping
30-day free returns

Buy with confidence!
These two descriptions actually present much of the same information—but one of them is far easier to read. The description on the right actually includes several additional points, but adding these to the description on the left would make it even less readable.
The readability of the description on the left can be improved by making it shorter, but then critical information would have to be excluded. The takeaway? Formatting matters—and affects not just how clear a description is, but how much information you can reasonably include.
So that it's clear that the same concerns apply to new products, and to products in other categories, let's look at the other product we mentioned:
Description A

Enerwear 6-pack men's merino blended wool trail socks. Army green. Blister-free. Fits US men's sizes 10-13. Full cushion support, reinforced heel and toe. Great in cold weather conditions or for hiking, skiing, camping, or work conditions.

Description B

Enerwear men's blended wool trail socks, 6-pack—great for outdoor activities of all kinds!

Product Details

Army green color
US men's size 10-13
25% wool, 61% acrylic, 14% nylon/polyester/spandex
Full-foot cushion support
Reinforced heel and toe
Extreme warmth and durability
6 factory-new pair per pack

Use For

Extreme weather conditions
Camping
Hiking
Skiing
Cold-weather work

Shipping and Returns

Free priority shipping
30-day free returns

Satisfaction guaranteed!
Once again, we can see the same balancing act on the left—include more information and the description becomes difficult to read. Include less information and it's still difficult to read, plus shoppers can't find the information that they need to make their decision.
The description on the right includes detailed product information, application information, and positive marketing copy—but isn't overwhelming.
The Basic Parts of a Good eBay Description
Based on these two examples, let's recap in even simpler, more basic terms what a good eBay item description contains:
Includes fairly comprehensive details, specifications, and condition information

Includes information about use or product application

Uses basic formatting like bold text and bullet lists to organize information

Is concise, readable, and well-organized
Whether you use visual listing templates or not, if you're able to cover these points as you create your item descriptions, buyers that click on your description link will find the information they're looking for.
As a result, they'll be more inclined to buy and more clearly informed about the products you're selling—as well as the terms under which you're selling them. The result? More sales and fewer headaches for you,
Want tips + tricks?
Join the Newsletter