eBay's 2018 Fall Seller Update is out, and once again eBay is announcing far-ranging changes of which many sellers should be aware. Among them are:
Further expansion of the product-centric shopping experience

The ability to provide phone support to shoppers prior to the sale

The end of support for non-secure http:// content in item descriptions

Tracking requirements for item not received appeals

Fee increases, changes in item conditions, and a new labels experience
Here are the details you need to know about each of the changes mentioned above.
Product-Based Shopping Expansion
In the 2018 Summer Seller Update eBay expanded the number of categories covered by its new product-based shopping experience. Now eBay is announcing that the number of product-based shopping categories will expand once again.
The list of product-based categories is now quite extensive, and there are some general rules to keep in mind:
In many—though not all—of these categories, you must associate your listing with an eBay product catalog entry in order to appear in search.

Because of the way that product-based commerce works, one of the best ways to appear prominently in search is to offer the best priced item for a particular condition—the best new price, the best refurbished price, or the best pre-owned price, for example.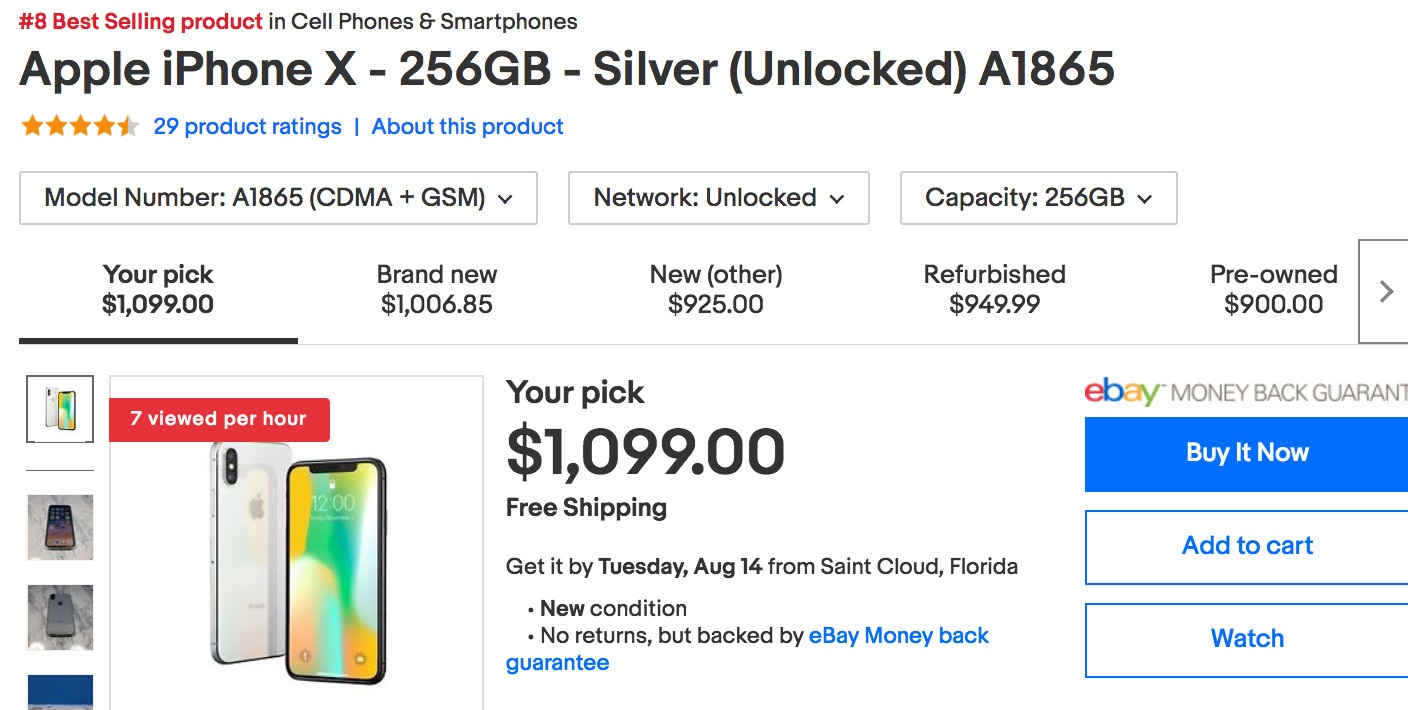 Product-based commerce continues to grow. Price your items to target links across the top.
To associate your existing listings with an eBay product catalog entry in inkFrog, follow these steps:
Open a listing or profile for editing. For a listing, this can be done by selecting "Listings" → "Library" → "Edit" (pencil icon).

In the listing you'd like to edit, scroll down to "General Settings" and find the keyword, UPC, or ISBN search box.

Begin typing either a product make and model or the product's numeric code from product packaging.

Select the matching product from the pop-up list that appears.

Save your listing. Updates for any live listings will automatically propagate to eBay.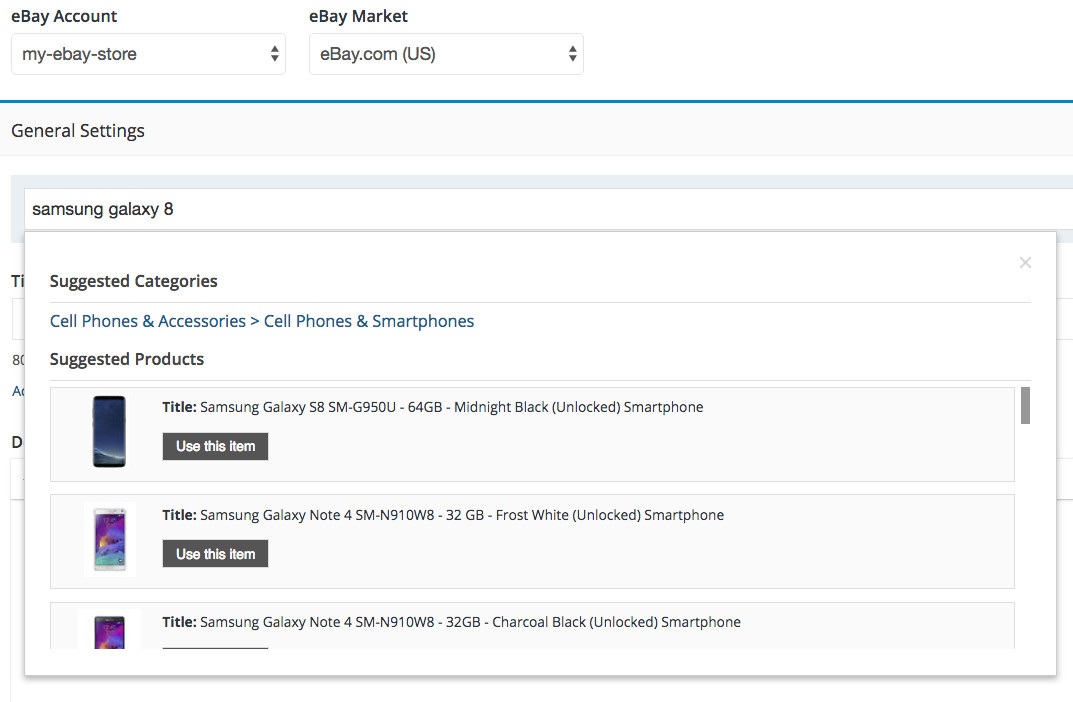 Enter your product, then select a matching catalog entry to update your listings.
Pre-Sale Phone Support
This change is a remarkable about-face for eBay. After years and years of strict enforcement of its "no shared contact information" rule, sellers will now be able to share phone support information with shoppers prior to a sale.
There are, however, some caveats.
eBay is calling this a "pilot" program, so its permanence may depend on whether or not sellers abuse the privilege.

Sellers can't share a phone number themselves (in item descriptions or eBay messages), but must rather enable the sharing of their phone number in their eBay account settings.

The phone number won't appear prominently, but will be provided to shoppers that are actively seeking more information about the product in the listing, for example, by using the "Contact seller" link.

Sellers are still forbidden from using this contact to conduct and off-eBay sale; the feature is intended to enable sellers to answer questions for interested shoppers, thereby hopefully increasing conversion rates.

Sellers can now enable shoppers to phone them before the sale with questions.
End of Support for Non-Secure Content
Starting on September 15th, eBay will no longer support item descriptions containing references to non-secure (http://) content, instead requiring that all references to external content use a secure (https://) connection.
In practice, this will primarily affect sellers that host images somewhere other than eBay. Already existing listings will not be affected, but all new listings (including relistings) must be made using secure content or eBay will abort the listing process with an error message.
Two changes must be made for old external content to continue to be used:
The server hosting the content must be configured to enable https:// connections. In most cases, this will already be done for you—to check, try visiting an older image URL, replacing the "http://" with "https://" in your URL bar. If the image loads correctly, your server already supports secure connections.

HTML code in older item descriptions that do not use inkFrog's designer template library must be changed to reference "https://" URLs instead of "http://" URLs. For many eBay sellers, this will be the tougher job.
Fortunately, inkFrog users are able to make this change quickly and easily. Once you have verified that your server is able to handle secure connections, follow these steps to update your content:
Inside inkFrog, select "Listings" → "Library" to open the library containing all of your listings.

Check the box at the top of the left-most column, to the left of the word "TITLE" in the header row to select all of your listings.

Select "Bulk Actions" → "Listing Actions" → "Find & Replace" to open the find and replace tool.

In the "Find" box, enter: ="http://

In the "Replace with" box, enter: ="https://

Click "Find & Replace" to replace all instances of "http://" in your listings with "https://" instead.

Use inkFrog's search and replace tool to update all of your listings to secure content at once.
New Tracking Requirements
Starting September 10th, sellers will be required to enter tracking information for their shipped orders (or to use a label printing method that automatically submits this information) prior to the estimated delivery date provided by eBay to the shopper.
If this information is not provided by the seller before the estimated delivery date, eBay will no longer protect sellers in cases of "item not received" claims or allow appeals in these cases when decisions are made in favor of the shopper.

Going forward, be sure to enmter tracking information for every order you ship.
Most regular sellers already use pre-printed labels that automatically enter this information during pre-shipment, but if you don't already do this—now may be the time to start, both to protect yourself and to save the additional work involved in entering tracking information manually.
Fees, Item Conditions, and New Labels Experience
There are a number of other changes outlined in the 2018 Fall Seller Update, but three in particular are likely to be of interest to a wide variety of sellers:
Increased fees. Insertion fees for reserve price listings in most categories, for subtitles, for value pack listings, and final value fees in several media categories will increase in mid-September, in some cases dramatically. Check the list of fee updates to see whether any of these fee increases will affect you.

Changes to item conditions. The vague "New other" item condition is finally being replaced with something more conventional in some categories—the much more shopper friendly "Open box" condition. This change will automatically be applied by eBay to listings in Electronics, Home & Garden, Health & Beauty, and Musical Instruments. In Business & Industrial categories, "New other" will change to "Like new" instead.

New eBay Labels Experience A new label-printing experience to streamline fulfillment will soon also be available. The new experience will roll out in September and promises to be both more flexible and more intuitive than the old label printing experience.
For Complete Details
Though we've covered the highlights above, as always there are a sizable number of changes included in the latest seller update.
For complete details on each change, the conditions under which they apply, and the date on which they'll take effect, visit eBay's 2018 Fall Seller Update page.
Want tips + tricks?
Join the Newsletter