Looking to streamline your eBay shipping processes and reduce fulfillment costs while you're at it?
We've just released a new integration with ShipSaver, enabling inkFrog users on the Unlimited and Designer plans to easily print shipping labels and purchase shipping insurance.
Even better, you can do this directly from within inkFrog—often at better rates than are available directly from carriers.
What You Can Do with ShipSaver in inkFrog
With the new integration, you can:
Purchase shipping labels and insurance for all your eBay orders, with a single click

Enjoy better label and insurance rates than are available through eBay in many cases

Ship any package that originates within the United States to any United States or global address
Best of all, it's easy to use!
Connecting ShipSaver to inkFrog
To use ShipSaver, click "Apps" → "ShipSaver" to open the integration tool.
If you already have and use ShipSaver, click "Already a user? Login" to connect your ShipSaver account to inkFrog.

Visit the "Apps" area of your account to connect to ShipSaver.
If you don't already have and use ShipSaver, create a new ShipSaver account by clicking "Need an account? Sign Up."
Creating a ShipSaver Account if You Don't Have One
If you opted to create a new ShipSaver account, you'll be asked to provide a login and password for your new account, then prompted to configure a few basic preferences.
In the Shipping Preferences area, select all of the shipping services that you regularly use in the "Default Shipping Services" drop-down list. Then, select a default domestic service and a default international service. You can change these preferences later on, on an order-by-order basis.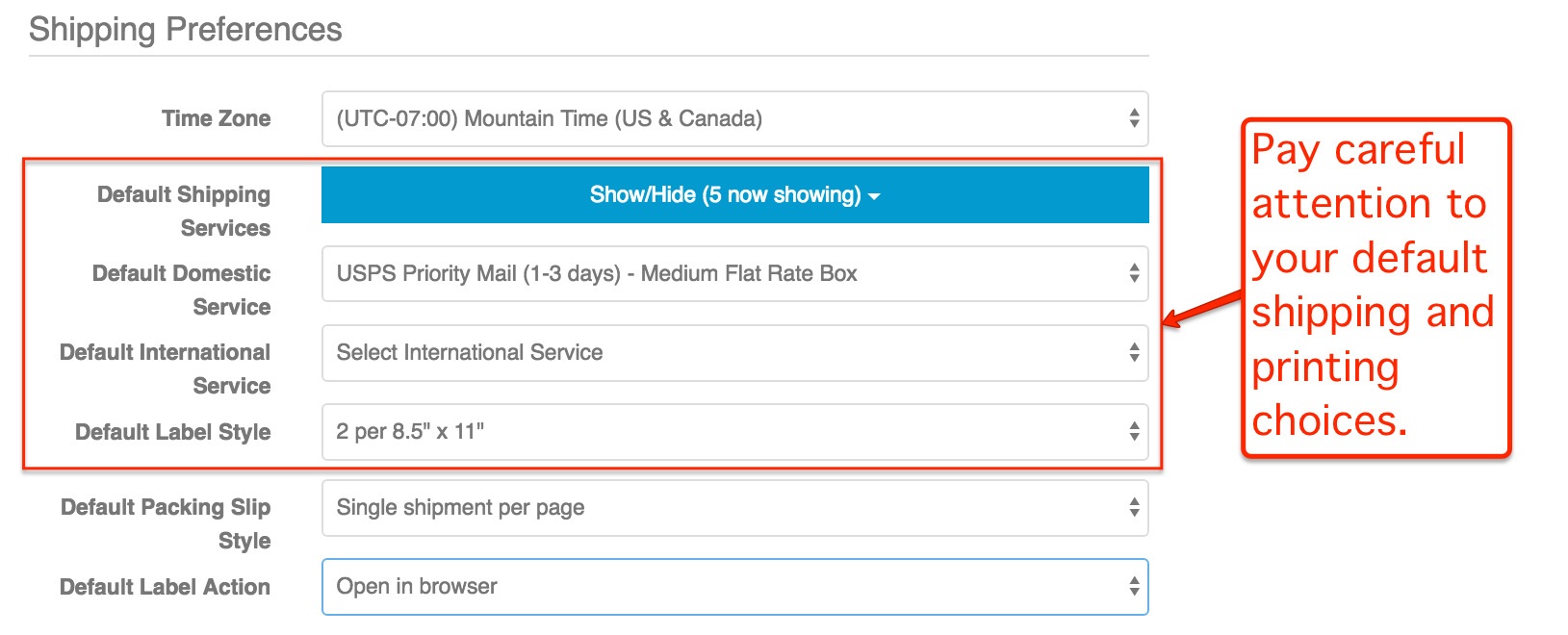 Configure your shipping preferences as you create your ShipSaver account.
Select a default label style for printing, a default packing slip style, and whether you'd like new shipping labels to open in your browser or be saved to disk.
In the Insurance Preferences area, specify how you'd like to receive payments for insurance claims—either by check or by PayPal, and provide the needed information for this delivery to occur.
In the Insurance coverage area, check the boxes next to any carriers for which ShipSaver should cover the entirety of any insurance claims. Leave boxes unchecked to rely in part on the carrier's standard coverage level, which is slightly less expensive, but also less convenient.
In the Email Preferences area, check the boxes next to any email messages you'd like ShipSaver to automatically send. Hover over each message for a detailed description of the message content and its destination.

Choose to pay for shipping labels with either PayPal or a credit card.
Finally, provide a payment method for your label printing. For many eBay sellers, PayPal is the easiest method, matching the way that eBay shipping labels are billed by default. Either click the PayPal payment option to connect your PayPal account to ShipSaver, or click on the credit card payment option to provide card details.
Your new ShipSaver account is now created, connected to your inkFrog account, and ready for use!
Printing Labels and Purchasing Insurance
Once ShipSaver is connected to your inkFrog account, you'll notice new options when viewing your sold listings that make it easy to purchase shipping labels or insurance for your orders:
Click on the printer icon next to an order to purchase and print a shipping label for your shipment.

Click on the shield icon next to an order to purchase ShipSaver insurance for your shipment.

Once ShipSaver is connected, labels and insurance are easy to purchase from within inkFrog.
That's all there is to it!
Whenever you're working in inkFrog, you're now just a click away from purchasing and printing shipping labels to fulfill orders, or from buying competitively-priced shipping insurance from a company that's handled over 3 million deliveries—for more than 20 thousand sellers worldwide.
Want tips + tricks?
Join the Newsletter