Private label selling is big business on Amazon, and for many sellers the next logical step is to take their private label goods to the eBay marketplace as well.
Happily, inkFrog makes this process relatively easy and painless. Here are the basic steps involved.
Create a Branded eBay Account and Store
First, create an eBay seller account and an eBay store that match your brand, or change the name of your existing eBay seller account and store accordingly.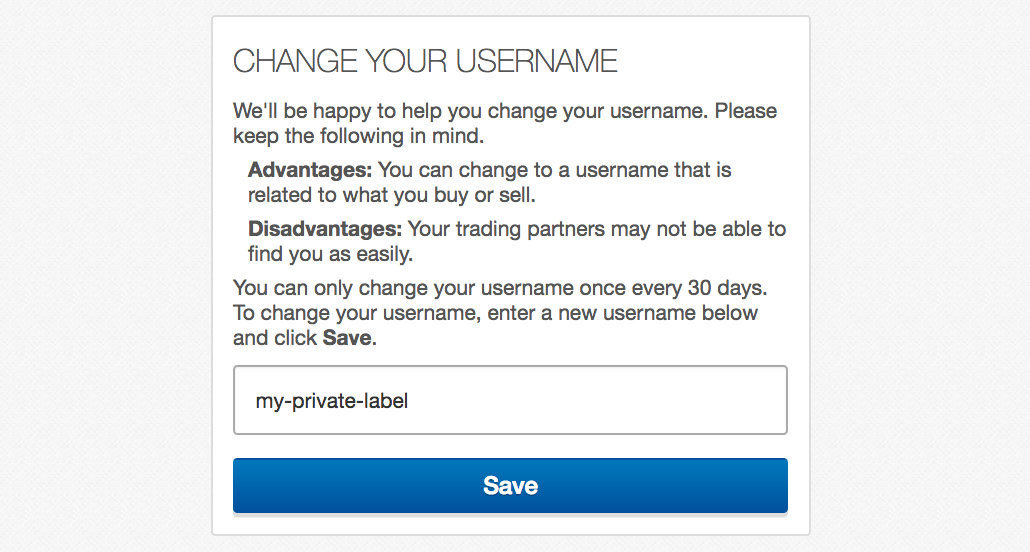 Be sure to set your eBay Seller ID to something resembling your private label brand.
Your goal is to make your brand stick on eBay by indicating—with matching seller ID and store names—that you're the brand's owner and exclusive retailer.
If someone else already has the name you'd like, keep trying with minor variations until you find one that is similar enough to your product brand that users will understand that the two are connected when they see them together in a listing.
Connect Your Accounts to inkFrog
If you created a new eBay account just for your private label products, either sign up for an inkFrog account or log into your existing inkFrog account and visit "Settings" → "eBay Accounts" to link your new eBay seller account.

If you created a new eBay account just for this brand, link it to your inkFrog account.
Next, link your Amazon seller account to inkFrog. This will enable you to import your product listings from Amazon and use these to create eBay listings. It will also enable you to synchronize inventory levels between eBay and Amazon.
Start by selecting "Store Connector" → "Add a Store" from the inkFrog sidebar. Select the Amazon option to start the process to link your store.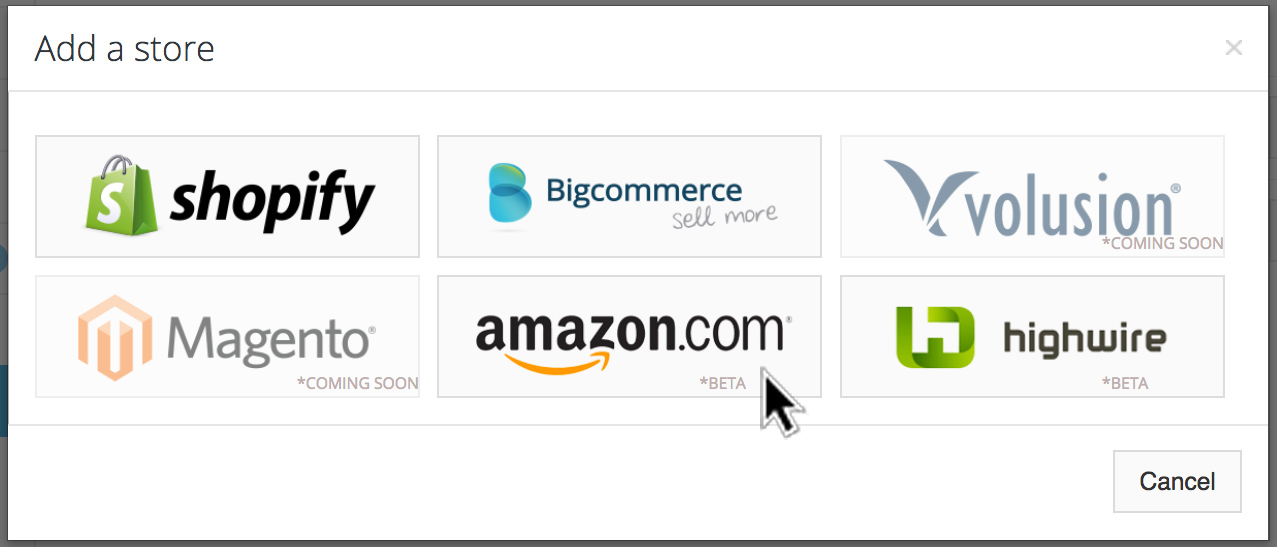 Link your Amazon seller account to inkFrog, to access your product listings and inventory.
You'll be asked to provide your Amazon seller name, to log in using your Amazon seller credentials, and to agree to enable inkFrog to access your Amazon data. Follow your nose through these steps until your Amazon account is successfully linked to inkFrog.
Import Listings and Optimize Your Listings
Now it's time to have inkFrog earn its keep. Import those dozens of private label products you've listed on Amazon into your inkFrog account, so that you won't have to manually create listings for each one of them on eBay.
Visit the stores area of your inkFrog account, then click "Import from store" to being the product import process.

Click "Store Connector" to visit your stores area, then "Import from store" to import listings.
Decide whether to import all of your listings at once, or to select just a subset of your products. There is no penalty for either choice; the best choice for you simply depends on how you'd prefer to organize the process of getting your listings from Amazon into eBay.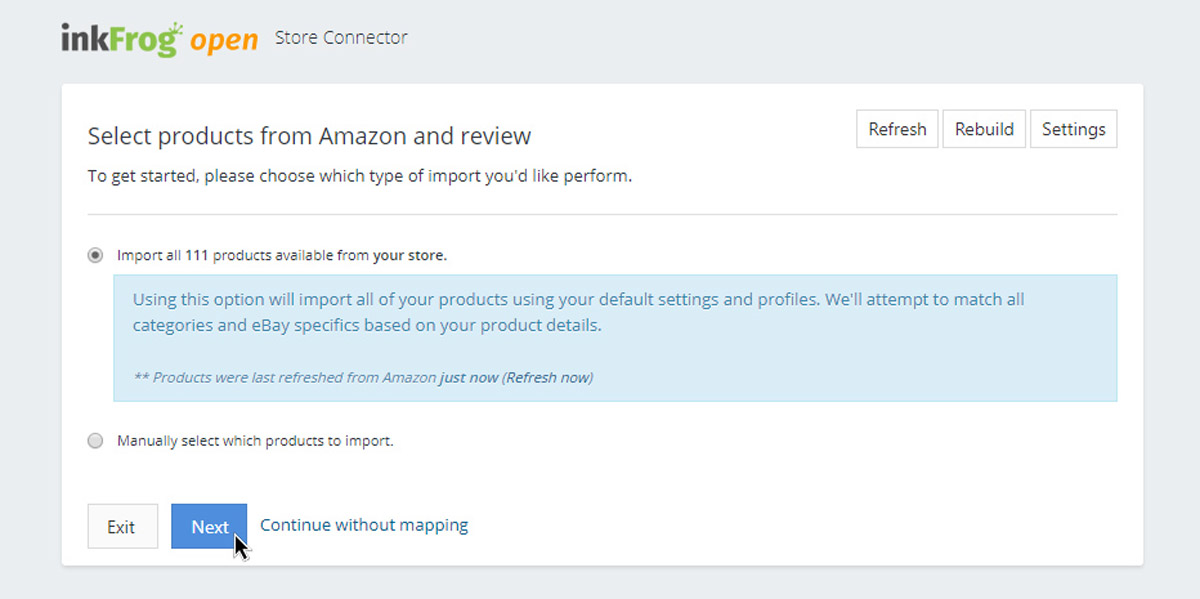 Either import all of your Amazon product listings or manually select those you want on eBay.
As you import or after you import, take the time to edit the titles for most of the newly imported listings in your library for eBay, and to ensure that each listing is in the shape that it needs to be in to rank well in eBay search.
Create and Apply a Branded eBay Template
With the data in your listings ready to go live on eBay, it's time to brand your listings with a custom template.
You'll need a Designer inkFrog subscription for this step, so if you don't already have one you should consider upgrading now. After all, your private label adds value to your products, but only if it's visible to shoppers.
Click "Templates" → "Designer Template" inside your inkFrog account to explore inkFrog's library of designer templates, find one that works well for your products and niche, and customize it for your own brand and store.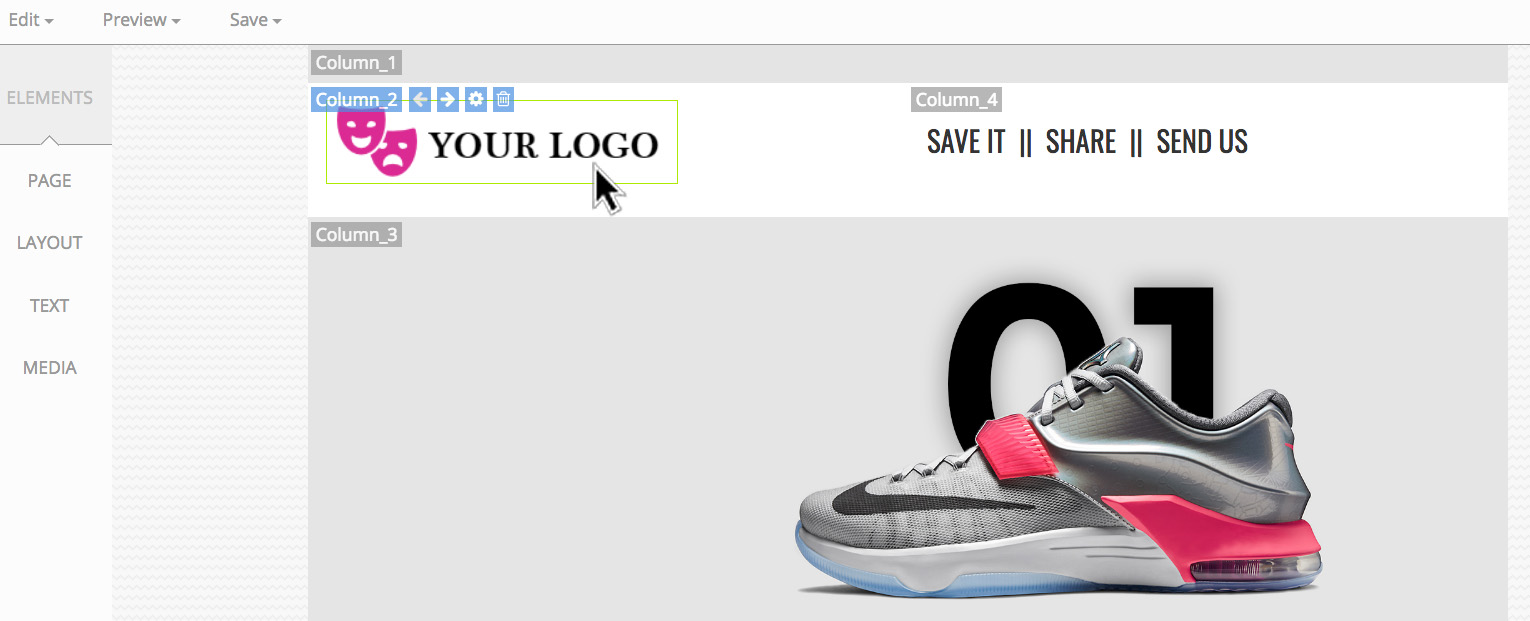 Customize one of inkFrog's designer eBay templates with your own logo and colors.
Feature your brand and logo prominently. Don't use manufacturer-supplied stock photos and phrases if you can avoid them, since your competition will probably be using them to, and that will tend to dilute the value of your label.
Once you're done customizing, apply your new listing template to the listings you previously imported. Click "Listings" → "Library" to open your listing library. Select the listings you'd like to connect to the new template, or click the checkbox on the left in the header to select all of your listings.
Then, select "Bulk Actions" → "Listing Actions" → "Assign Template" and select your new template to update all of the listings you selected to use your new, branded template.


Select all listings using the header checkbox, then click "Bulk Actions" → "Listing Actions" → "Assign Template."
Set up Synchronization
Your just about ready to push your listings live to eBay, but before you to, set up synchronization between your eBay and Amazon accounts to ensure that your inventory levels on both platforms are updated as sales are made on either.
Click "Store Connector" → Store Name to open the store connector for your Amazon store, then click "Settings" to open the settings associated with your Amazon store.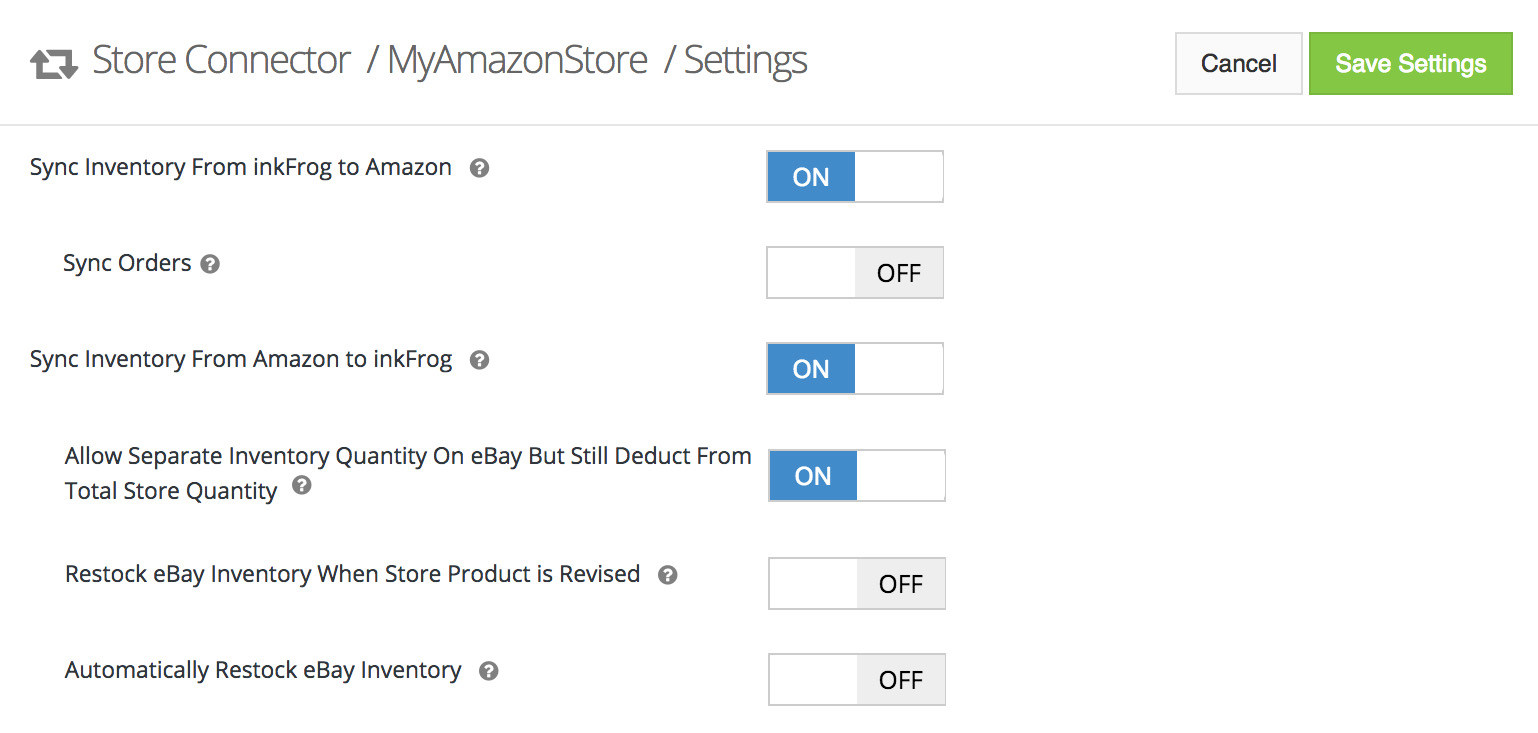 Configure inkFrog to keep your eBay and Amazon inventories synchronized to avoid fulfillment issues.
Make note of the options associated with syncing inventory data in particular. For automatic inventory management, most sellers opt to have inventory synced in both directions—so that both your Amazon store and your eBay store inventory levels are kept up to date at all times.
List your Items and Enjoy the Ride
You've done a lot of work! You just:
Named your eBay presence after your brand

Ensured that your eBay and Amazon seller accounts are linked to inkFrog

Imported your private label Amazon products into inkFrog

Optimized your listing data for eBay sales

Created a custom branded listing template

Applied your new custom template to all of the listings that you imported

Configured your synchronization settings to ensure sane inventory management
Now you're ready to take your private label products live on eBay. Here's how.
Click "Listings" → "Library" to open your listing library.

Select all of the listings you'd like to post for sale on eBay or check the box in the header to select all of your listings.

Select "Bulk Actions" → "List to eBay" to post the listings your selected up for sale on eBay.
Your new private label eBay products and store are up and running—and you're well on your way to becoming an eBay success!
Want tips + tricks?
Join the Newsletter