Every seller wants to know how to make the best possible eBay listing titles, and lots of online content exists to try to help sellers do just this.
But listing titles are a more complex subject than is often recognized. Why? Because most of the help out there focuses on how titles affect your search ranking—yet there are two reasons to care about your listing titles:
Getting ranked in search. Yes, it's true—eBay listing titles can to some extent either improve or imperil your placement in eBay search results.

Enticing shoppers to click and buy. Remember that to actually make a sale, you have to stand out and get shoppers to click and buy, not just fly past as they scroll.
In practice, it's the interplay between these two that makes for a great listing title.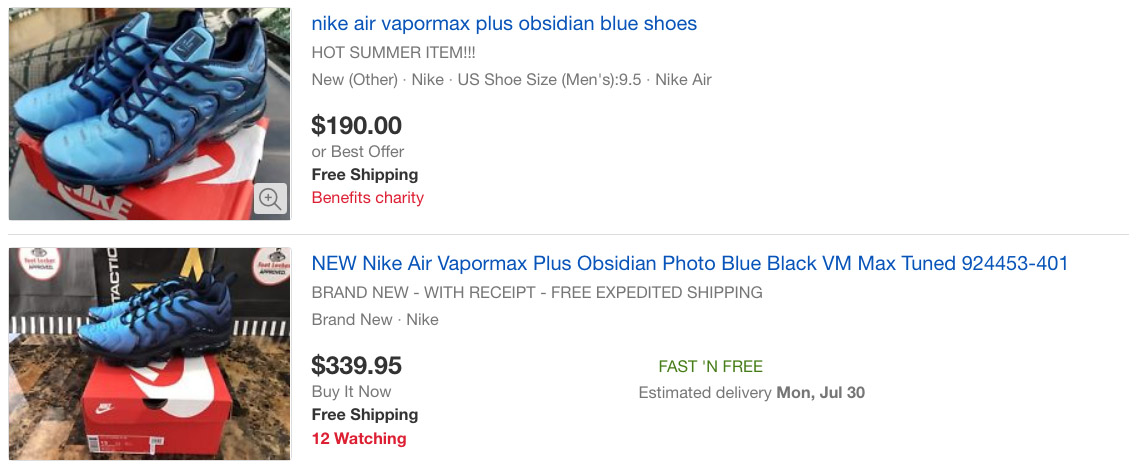 Listing titles need to balance strong searchability with readability and professionalism—both matter.
Titles That May Not Rank Well
Let's begin with a caveat. Gone are the days when your listing title alone determined where you rank in eBay search results.
Today your placement also depends on your images, seller performance record, feedback, price, shipping and returns policies, and your sell-through rate. If you're lagging in any of these areas, don't expect a perfect title to put you at the top of results—because it won't.
With that said, a poor title can certainly hurt your search visibility. Here's why.
Let's look at a common, highly-desirable product—the Nike Air Vapormax Plus "Obsidian & Photo Blue" sneaker, released in January 2018.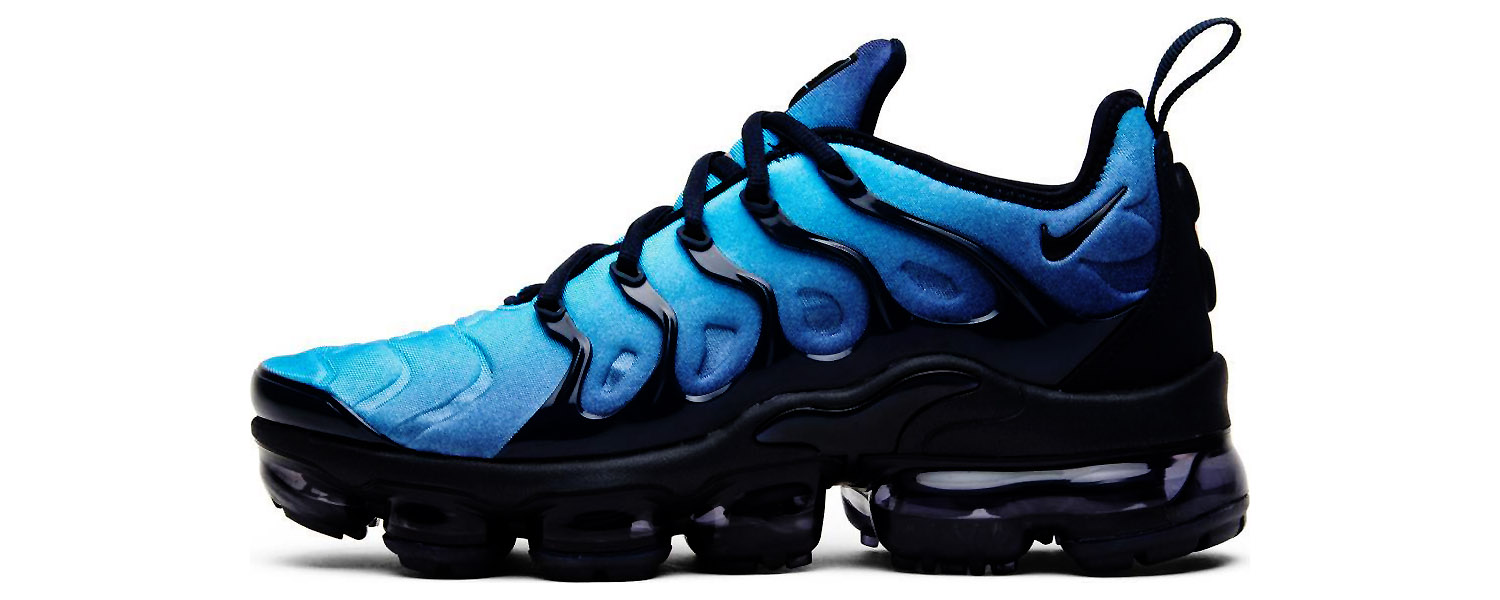 Creating good listing titles can be tricky—as this Nike Air Vapormax shoe demonstrates.
Consider how shoppers might search for this or similar products. A typical shopper might type:
blue nike
nike obsidian vapormax
nike photo blue vapormax
nike mens size 10
obsidian nike running shoes
mens vapormax plus blue

nike vapormax size 10
blue nike sneakers
blue nike size 10 shoes
blue black nike air vapormax
size 10 vapormax
nike 924453-401 men's 10
Here are some poor listing titles for this product:
Nike Vapormax Blue
Nike Vapormax 924453-401
Nike Vapormax Plus Obsidian Blue
Nike 924453-401 January 2018 Sneakers Hot and New
The problem with each of these titles is that they're missing many of the keywords that shoppers could very well search for—and as a result, other sellers with more careful keywording will likely outrank them.
Titles That May Not Lead to Sales
Now let's look at a slightly different problem—titles that may rank well for some searches, yet still don't draw a click, or a purchase, when seen. Here are some titles for the same product that exhibit this problem:
Style #924453-401 Sneaker Obsidian Photo Blue by Nike
Size 10 Blue Black Running Shoe Nike New in Box
NIB Sneakers Shoes Size 10 Nike Men's Blue and Black SHARP!
HOT NEW Vapormax Plus Blue Black Size 10 Men's
Can you spot the issue with each of these titles? Most of the time, shoppers mentally identify products using words in this order:
Make and model

Product type and color

Everything else
In this case, that means the following terms:
Nike Air Vapormax Plus

Sneaker in Obsidian, Photo Blue, and Black

Men's Size 10
In most of the examples above, it's not clear at first glance just what product is being offered for sale. Instead of make, model, product, and color, in that order, the examples are all over the place.
Leading with data like style codes, sizing, condition, or "hotness" just means that your listing will be passed over quickly, even when it does appear in search results.

Appearing in search results isn't enough—you also need shoppers to click, trust, and buy.
Titles That Will Rank and Sell
Now let's look at some titles for this product that get it right:
Nike Air Vapormax Plus Obsidian Photo Blue Black Shoe 924453-401 Size 10 Sneaker
Nike Vapormax Plus Sneaker Obsidian Black and Photo Blue Size 10 924453-401
Nike Vapormax Plus Sneaker Obsidian/Photo Blue/Black 924453-401 Mens Unisex 10
Keep in mind that you only have 80 characters to play with, so compromises have to be made—but each of these titles manages to:
Match a majority of the words in the sample shopper searches above

Present a make, model, product, color, style, and size, in the right order

Look professional, rather than haphazard, and get names and colors right
Even with compromises, these titles are much more likely to rank highly (or avoid ranking poorly) for searches related to this product—and they're also clear, specific, and professional enough to draw clicks and sales.
Don't Forget the Subtitle
The good examples above couldn't avoid making compromises, but happily there's a further step that you can take to ensure that you include as much relevant information as possible—adding a subtitle. When compromises are made, use a subtitle to make up the difference:
Nike Air Vapormax Plus Sneaker Obsidian/Photo Blue/Black Size 10 Authentic
Shoe #924453-401 - Mens+Womens unisex sizing - Jan 2018
Subtitles are a useful, inexpensive feature that are often correlated to more sales—and that are easy to take advantage of in inkFrog. Use subtitles to include lower priority, yet still useful information that you can't squeeze into the main listing title.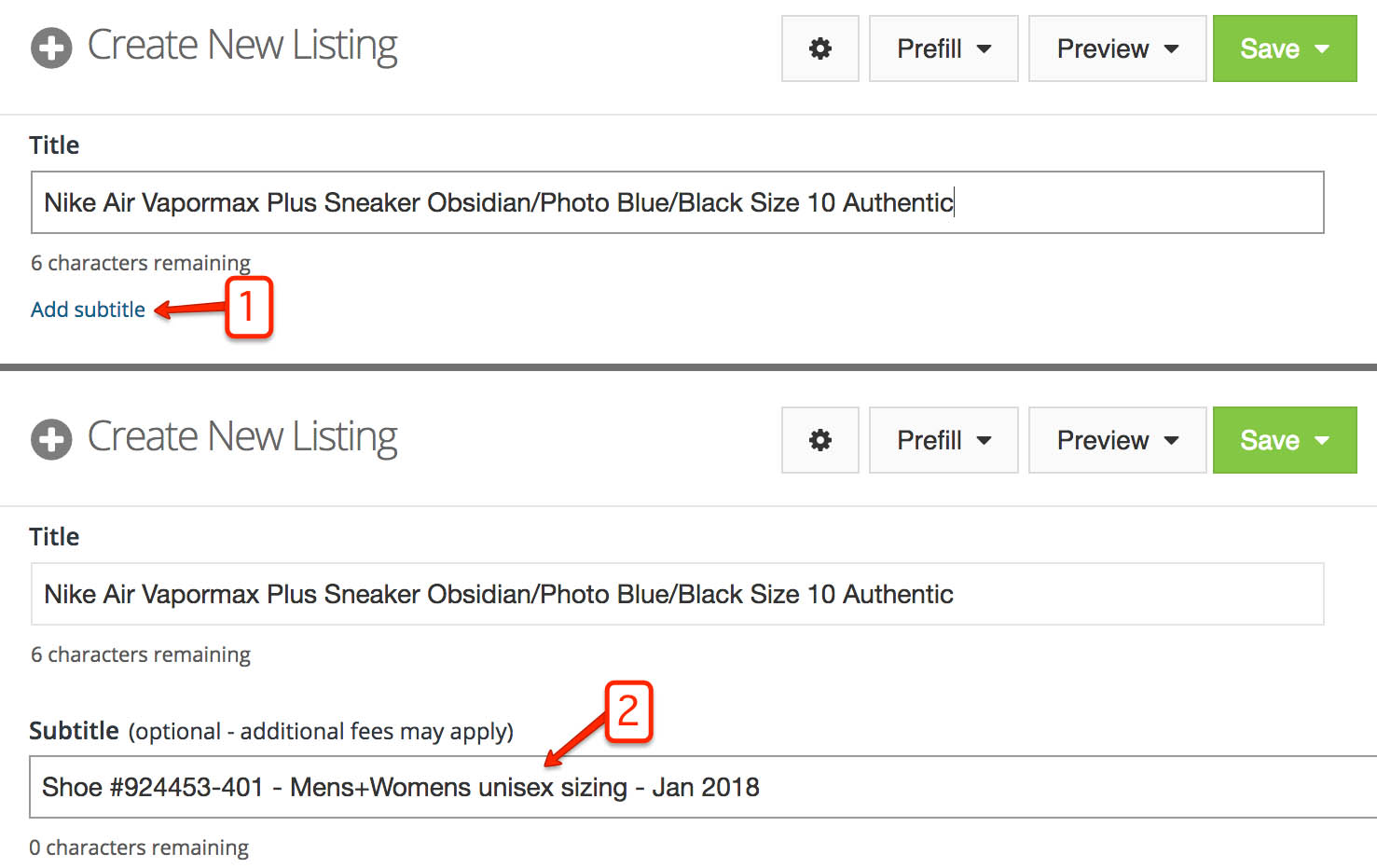 There's a subtitle field in the inkFrog listing form—so don't hesitate to use it!
Learn from Other Sellers
As you develop your title-making skills, do your own research on eBay. Search for the products that you sell in a variety of ways. Notice:
Which listings appear near the top of search results over and over again, for each variation that you type

What those sellers are doing with their titles—and with the rest of their listings

Which titles you notice as a human shopper—and which you tend to gloss right past
Over time, and with a little experimentation and optimization, your eBay titles will help you to rank well for most searches and to generate sales—provided the rest of your eBay performance and strategies are in order.
Want tips + tricks?
Join the Newsletter