There are at least a few dozen metric tons of tips, tricks, and tutorials to help you to sell more online, particularly on marketplaces like eBay and Amazon.
It's true that most of this information is very helpful, but it's also true that there are a few useful strategies for boosting sales that are rarely mentioned on the blogs and in the YouTube videos.
If you've taken care of the basics, have your stores up and running, and are happily using inkFrog for smooth day-to-day operations, here are four ideas to help you to go a step further in your marketing and sales efforts on eBay and Amazon.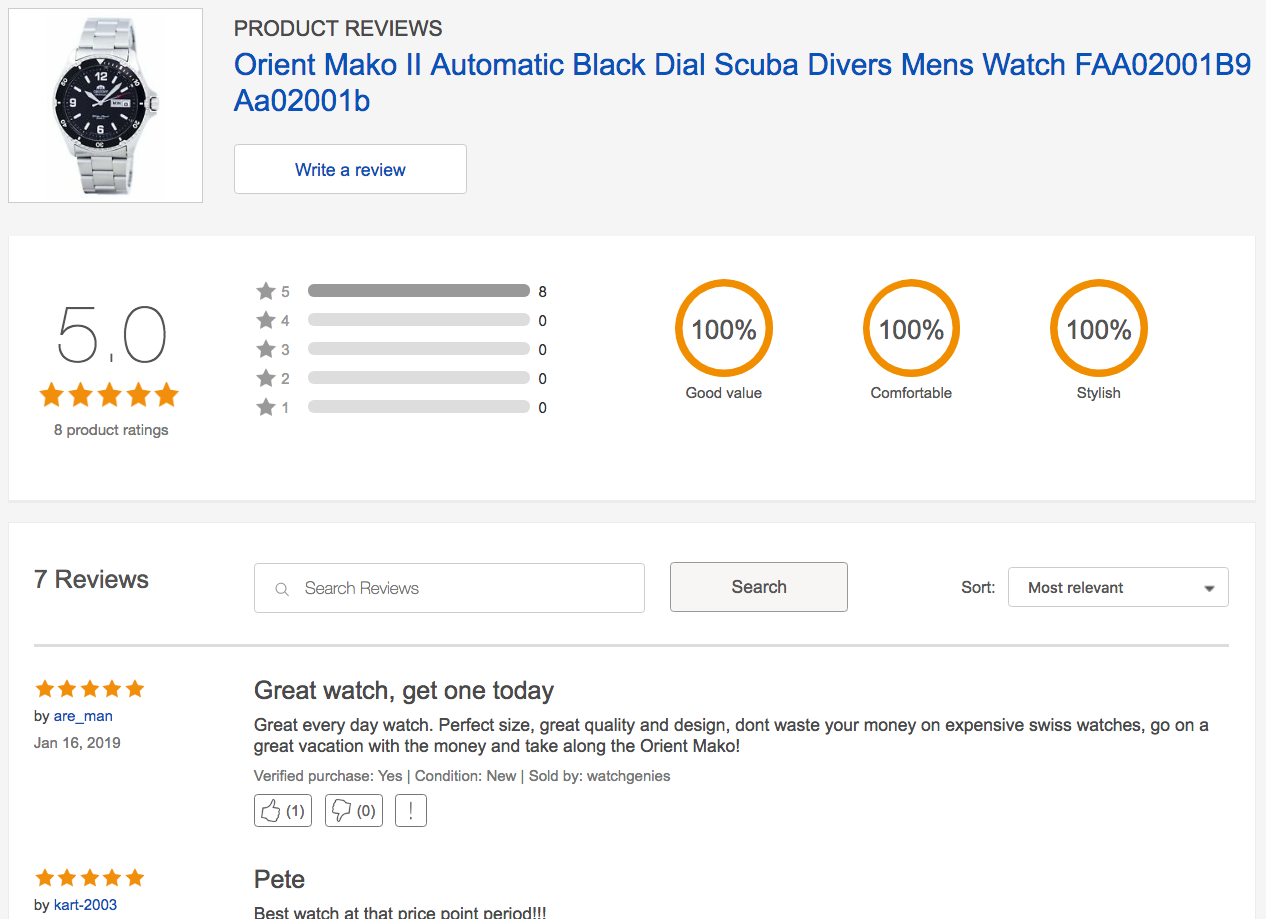 Both eBay and Amazon host product reviews that can sway shoppers when averages are positive.
1. Ask for reviews of your products.
Both eBay and Amazon enable shoppers to write product reviews.
Amazon is probably the single most important product review site online, and products that have a review average of four or five stars see a significant boost in sales over products with no reviews.
eBay reviews are less well-known and less impactful overall, but even so, having a four- or five-star indicator above your catalog product listing can help to sway buyer decisions. On top of that, eBay also reveals which seller sold a given product to the shopper that reviews it, enabling shoppers to locate the sellers that have made shoppers for particular products happy.
If you're confident about the quality of your products (and you should be), don't just use follow-up email to encourage shoppers to leave feedback about your eBay seller ID or Amazon store. Encourage them to write positive reviews your products as well if they're satisfied with their purchases.
2. Complete your store and seller profile information.
On-the-fence shoppers can be wary about buying from independent sellers. This is particularly true if said independent sellers don't offer much information about themselves in the spaces provided.
eBay and Amazon both offer store pages and eBay also offers a feedback profile page where you can brand your business with images and text about your business. Use this space to tell prospective shoppers about your business and to provide them with at least one graphic or logo that will stick in their memory.
An empty or blank profile page suggests to shoppers that you're small-time, not established, or just not paying attention, while a nicely curated profile page says just the opposite and can encourage bookmarks and repeat sales.
These days, it's easy to start a blog or a vlog to create content and excitement about your products and niche.
3. Promote or advertise your store in other online venues.
Much of the tutorial information about selling on eBay and Amazon emphasizes being found in eBay search or achieving placement in the Amazon Buy Box. Both of these are important for eBay and Amazon sellers, respectively, but their reach is limited—they promote you to shoppers that are already on eBay and Amazon.
You can do a great deal, however, to promote your listings beyond the confines of eBay and Amazon. If your business is up and running and you're looking for new ways to gain an edge and drive new traffic to your products, consider and research each of the following strategies:
Sharing your listings via major social media platforms

Using Google Ads and other ad platforms to bring new shoppers to your store and products

Creating a blog or website, providing useful content about your niche, that also promotes your listings
Each of these strategies can pay big dividends in sales, and none of them needs to be particularly expensive. So if you've already spent significant time optimizing your product listings and marketplace profile, think beyond the marketplace and reach shoppers across the broader web.
4. Promote your business publicly.
Too often, sellers focus all of their energy on the online portion of their business. Sometimes, good, old-fashioned PR and pavement-pounding can also pay dividends. Consider each of the following strategies to promote your business as a whole, rather than just promoting individual products:
Get local press coverage as a small business owner in your town or city
Reach out to blogs and podcasts that cover the kinds of products you sell and offer to contribute
Represent your business at meetups, conferences, or events related to your sales niche
Begin to host your own regular meetups at which you demo products and offer discounts
Search traffic is the lifeblood of online sales, yes, but for many sellers there are many additional sales to be earned by gaining exposure for their brand and business and building a network of interested, dedicated friends and shoppers—to make purchases and promote you by word-of-mouth.
Every Little Bit Counts
These strategies aren't day-one strategies for your business—it's important to get your listings, prices, policies, and fulfillment practices right first—but once these ducks are in a row, you'll be well-served by them.
If, on the other hand, you don't have your ducks in a row yet—start by getting inkFrog and our Amazon selling software for getting your products online and selling. Then, return to these tips when you're ready to take the next step toward an established business.
Want tips + tricks?
Join the Newsletter