eBay has issued an unusual 2019 Early Seller Update to enable sellers to "start taking advantage of new features" without having to wait for its usual April update.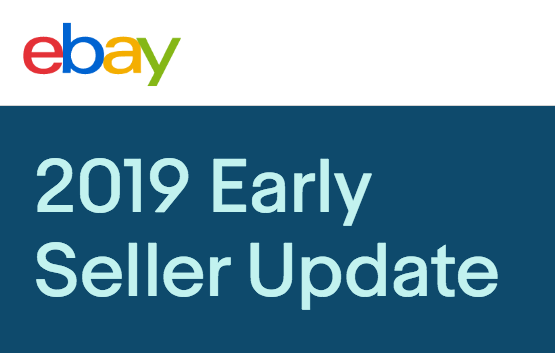 eBay has issued an unusual "early seller update" for February and March of 2019 detailing new promotional offers, Seller Hub features, and listing properties.
Here are some of the most important changes.
New Promotional Offers
A new "Offer to buyers" feature enables sellers to make special targeted offers to people who shop for their items or who "are interested" in their items.
Listings that are eligible to be promoted to shoppers this way will be marked as such inside Seller Hub. Listings don't need to have been listed with the "Best Offer" feature to be eligible for promotion.
Once an offer is sent, shoppers have 48 hours to take advantage, and item(s) in the listing remain available for anyone to purchase while the offer is open.
Edit Listings, Get Orders Report in Seller Hub
The price, quantity, and custom label fields for listings in Seller Hub are being edit-enabled. Sellers will be able to click on these values and change them for active listings, without having to leave Seller Hub and open the listing editor.
eBay also plans to add the capability to enable the "Best Offer" feature for multiple listings directly from the Seller Hub view.
Starting in March, sellers will be able to download a CSV-format "Orders Report" that includes buyer and transaction information for all orders shown in a Seller Hub view.
All Fixed-Priced Listings Good 'Til Cancelled
Starting in March, all new fixed price item listings on eBay will be listed as "Good 'Til Cancelled" rather than some other, shorter, seller-selected duration.
These listings automatically renew every 30 days until sold, with a listing fee charged each time. As a part of this change, fixed-price listings will also remain live once all inventory sold, being shown as "out of stock" rather than as an ended listing.
Changes to Item Conditions and Product-Based Shopping
eBay is addressing some of the difficulties that sellers have faced with the eBay catalog and product-based shopping.
Rather than requiring sellers to link listings to a particular catalog item, which has proven difficult for some sellers and some items, they can instead fill out all item-specifics details for the product they're listing to comply with product-based shopping requirements.
Along with this change, the "New other" item condition in a number of categories is being changed either to "Open box" or to "Used - Like New" to make the nature of the item's condition more clear to shoppers.
Sales Tax Collection for Some U.S. Sellers
To comply with new regulations in Minnesota, Washington, Pennsylvania, Oklahoma, and possibly a growing list of other states, eBay announced last year that it would increasingly collect and remit sales tax on transactions for which this is required automatically, on sellers' behalves.
No particular seller action is required for this to occur, and no fee is charged for the service. eBay's goal is to enable small and independent sellers to comply with the complex and evolving web of sales tax regulations in the United States without undue cost or difficulty.
Starting in March, the "Orders Report" in Seller Hub will itemize the sales tax collected and remitted for each such transaction, to provide sellers with transparency and accounting information.
The April Update is Still Coming!
eBay is still planning to issue the usual Spring Seller Update in April of this year, so more changes are no doubt in the works.
In the meantime, eBay's page about the 2019 Early Seller Update can be found here.
Want tips + tricks?
Join the Newsletter