Amazon order & inventory integration
inkFrog offers a seamless and powerful solution for Amazon order management & inventory synchronization

eBay Order Management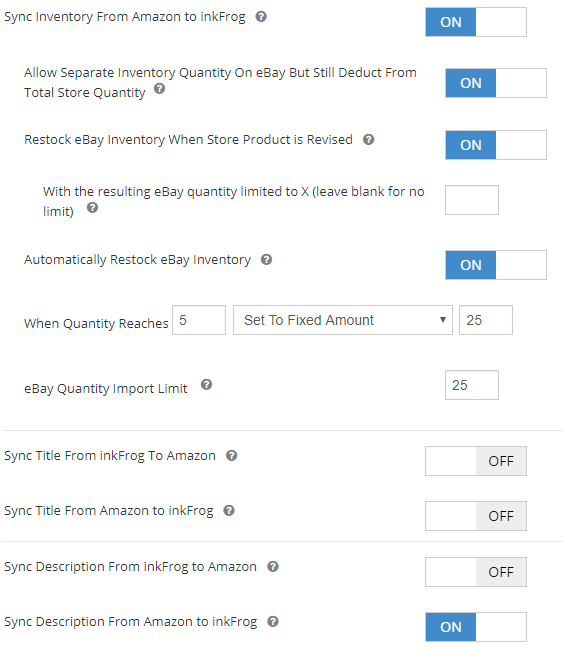 Manage your manually fulfilled Amazon orders in one central location. When using FBA, inkFrog makes eBay order fulfillment entirely automatic, inkFrog is your go to solution for managing your eBay orders.

Fulfill FBA orders from eBay automatically
FBA order status is automatically updated from Amazon to eBay so your customers are kept up-to-date every step of the way
Manage your FBM orders directly within inkFrog for a central eBay order management system
Inventory Synchronization
inkFrog will keep your Amazon inventory synchronized with eBay eliminating the need to worry about overselling.

Update Inventory between Amazon and eBay
Import and List new products to eBay or link existing listings between Amazon and eBay
De-List Products from eBay when you don't have the stock to sell
Define Rules About How Inventory is Distributed between Amazon and eBay
Avoid Overselling on eBay if you sell out on Amazon
Synchronization Settings
inkFrog offers complete synchronization control, selectively choose what you want to sync between Amazon and eBay.

Synchronize Titles Amazon to eBay, eBay to Amazon, or both
Synchronize Descriptions Amazon to eBay, eBay to Amazon, or both
Synchronize Pricing Amazon to eBay, eBay to Amazon, or both
Synchronize Quantity or use custom quantities for eBay
Auto Restock when you make a sale on eBay
Restock when your Amazon quantity is replenished
Increase or Decrease eBay pricing based on Amazon pricing
Out of Stock? eBay inventory will automatically update to reflect this
Want tips + tricks?
Join the Newsletter