Starting an e-commerce business? It's a hot idea these days.
But if you're new to e-commerce, it can be difficult to know where to start, and to understand how many of the big brands that are often talked about fit together as parts of the larger e-commerce world.
Let's take a look at what each of these brands is, and what sort of opportunity they present to you as a seller.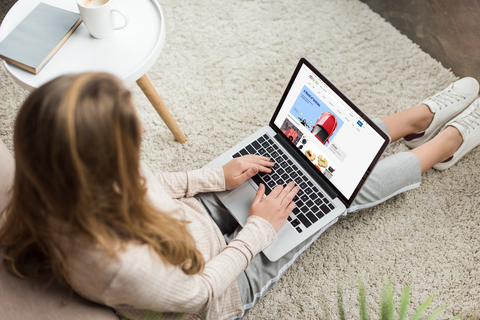 Trying to figure out e-commerce and how big brands like eBay, Shopify, Amazon, and BigCommerce fit together? Here's what you need to know. (Image: © Lightfieldstudiosprod / Dreamstime)
eBay and Amazon: The Marketplaces
eBay and Amazon are both e-commerce marketplaces.
What this means is that they are places—namely ebay.com and amazon.com—where millions of consumers go to shop every year.
Consumers search for products beneath an eBay or Amazon logo, find products under an eBay or Amazon logo, and they pay for products under an eBay or Amazon logo. If they'd like to return a product, they do that under an eBay or Amazon logo, too.
Between them, eBay and Amazon boast over half a billion active shoppers yearly—people who go directly to eBay and Amazon.com to find products to buy.
As it turns out, many of those products are not actually sold by eBay and Amazon, but by independent sellers and e-commerce entrepreneurs. In practice, it works something like this:
eBay and Amazon operate websites where products can be sold

Millions of sellers go to these websites and list their products for sale

Hundreds of millions of shoppers go to these websites, find, then buy these products

eBay and Amazon take a cut of the proceeds, relay the rest to the seller

The product is delivered to the shopper
Despite the fact that sellers have to sell under an eBay logo or an Amazon logo, and despite the fact that these marketplaces take a cut of the profits and impose strict rules that sellers often struggle to comply with, this is a very attractive arrangement to sellers for one simple reason.
That reason is the captive audience of hundreds of millions of shoppers who are already very comfortable buying on eBay and Amazon and, who have eBay and Amazon shopping apps installed on their phones and tables, who already have their payment information on file at eBay and Amazon, and who are thus unusually ready to click "Buy Now" buttons.

A fast and endless supply of shoppers is what makes marketplaces attractive. (Image: © Rene / Fotolia)
As a seller, listing on eBay and Amazon is the single easiest way in existence to get your products in front of a very large shopping audience very, very quickly—often mere minutes after deciding to become a seller.
Shopify and BigCommerce: The Store Providers
But there are limits to how far you can go on the marketplaces:
No matter how great or how unique your products or your brand are, they'll always be dwarfed by the eBay or Amazon logos, colors, and language on these websites.

Both eBay and Amazon impose limits on what you can do with your buying audience, making it far more difficult to built repeat sales and a loyal customer base.

By the time you're making lots of sales, you're also dreadfully aware that you're sending lots of money to eBay and Amazon that you could otherwise be investing in your business rather than in theirs.

And if you're struggling to get to lots of sales, you may be frustrated by the degree to which both eBay and Amazon limit your ability to present your products in new, different, and interesting ways, rather in their own standard formats.
For this reason, most established and growing e-commerce entrepreneurs and even many brand new ones also want to operate and invest in their own online store—a store that they build themselves, brand and design in their own way, and whose sales revenue doesn't get parceled out to already-rich third parties like eBay and Amazon.
That's where Shopify and BigCommerce come in. They're two of the best-known providers of online stores for sellers. Instead of selling on eBay.com under a red, green, blue, and yellow logo, or on Amazon.com under the yellow and black arrow, Shopify and BigCommerce provide easy-to-use tools for you to build your own website.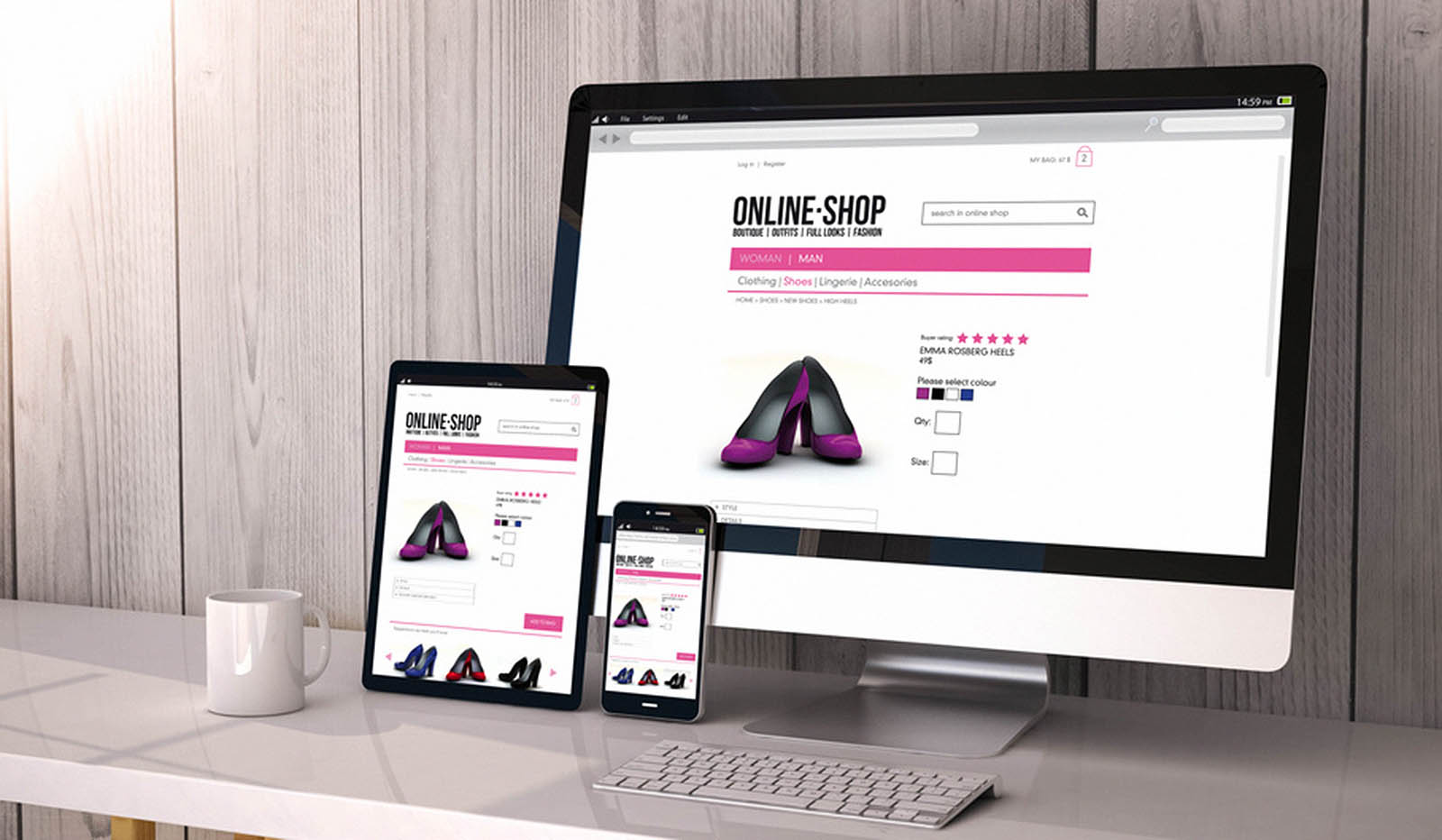 With Shopify or BigCommerce, you build your own online store. (Image: © georgejmclittle / Fotolia)
They can enable you to:
Create your own layouts, look, feel, branding, and colors

Present your own story, policies, methods of presenting products, and support content

Your own web address, like WildWestShoes.com or DiaryEmporium.com or MikesBoatParts.com

Accept payments yourself as you build and communicate with your own loyal, satisfied customer list
It's easy to see the allure. It's also a longer-term project to build business on your own site this way. After all, between the time you list your first product on eBay or Amazon and your first cup of coffee afterward, hundreds or thousands of shoppers will open their eBay or Amazon apps or visit eBay or Amazon in their web browser, perhaps looking for products like yours.
On the other hand, the day after you create WildWestShoes.com, it's unlikely that anyone will type it into their web browser. Perhaps not even the first week. Or the first month. It's your job to bring them there, and you're starting from scratch.
They're All Useful—and So is inkFrog
For many new sellers, the obvious thing to do is therefore to sell in several ways. For example, to drive sales quickly by selling on eBay and Amazon from the start, and to build more slowly in the background, with more ownership and long-term potential, using Shopify or BigCommerce.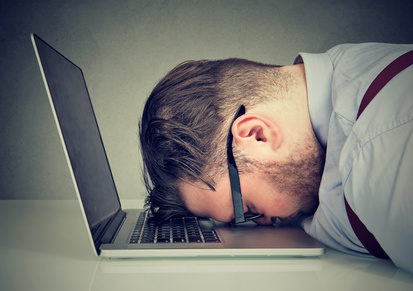 Trying to sell in several places at once can make you tired. Very tired. But inkFrog can help. (Image: © pathdoc / Fotolia)
But this comes with problems of its own, as many new sellers find out.
You want all of your inventory up for sale on every platform, for the greatest chance of a sale

Yet this means potential overselling—if you have one item listed in three different places and a shopper on each of them makes a purchase the same day, it's may be a problem

It also means a lot of work—it's hard enough to create product listings, set prices, and manage orders in one place—but three selling venues means three times the already heavy start-up workload
Happily, there's inkFrog, which is designed precisely for this situation:
Sell on eBay, Amazon, and your Shopify store—or on eBay, Amazon and your BigCommerce store

Reduce the number of times that you have to create listings for each of your products

Keep your inventory levels and prices up-to-date with real inventory numbers across all of your platforms

Earn early sales quickly on the marketplaces while you build a business in the background

Without having to do two or three times the work, pulling your hair out in the process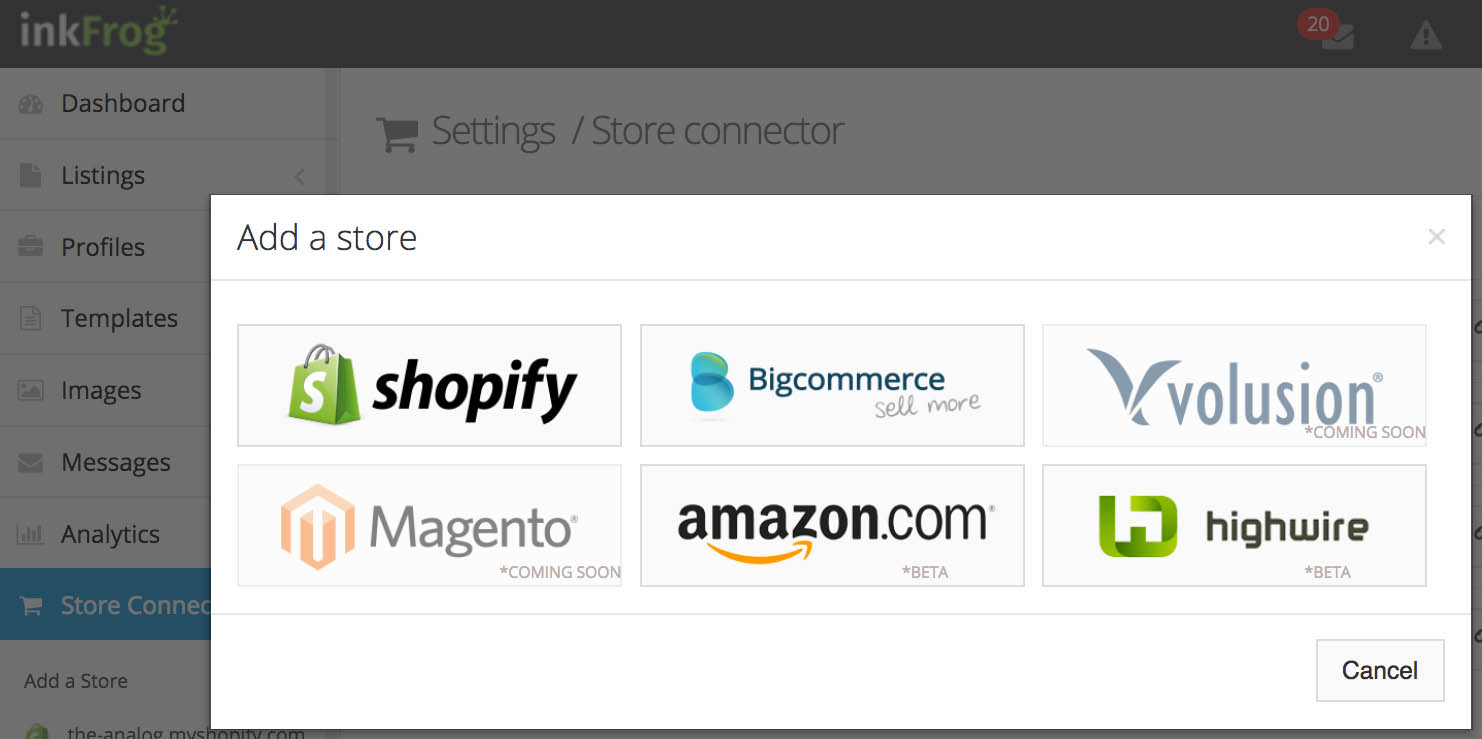 With inkFrog, you can add Shopify, BigCommerce, or Amazon support to your eBay sales.
The Best Way to Start
So, at the end of the day, if you're new to e-commerce, here's our advice for the best way to start:
Start building your own store on Shopify or BigCommerce

And also selling on eBay, a flexible marketplace where millions of shoppers already shop every day

Use inkFrog to link eBay and your Shopify store, or eBay and your BigCommerce store, to do much of the work for you

As you have success and get the workload under control, add Amazon sales and continue to polish and grow your store

Using inkFrog to manage all of them as you hire workers and come to manage and update thousands of listings
If you're just starting out, there's a lot of research and learning still to do—but bookmark this page and return to it for the big picture. And when you're ready to start, sign up for inkFrog as one of your very first steps. Try our Amazon Seller Software today for free.
Want tips + tricks?
Join the Newsletter