eBay sellers have an awful lot to manage if they want to be successful, and this can often mean that feedback for buyers ends up at the bottom of the to-do list.
Wouldn't it be nice if this could be taken off the list entirely?
Happily, if you're an inkFrog user on the Unlimited or Designer plans, inkFrog can help. inkFrog can:
Watch your feedback and note when shoppers leave positive feedback

Respond once they do with positive feedback from you

Automatically rotate your feedback from amongst several positive phrases you supply
Sound good? It only takes a couple of minutes to enable inkFrog to manage your feedback for you.
Open Settings for the eBay Account in Question
Log into inkFrog and click "Settings" → "eBay accounts" to open the list of eBay accounts you've linked to inkFrog.
Then, click the settings icon (it looks like a gear wheel or cog) to access the settings for the account whose feedback you'd like inkFrog to manage. This will open your basic inkFrog settings for the account in question.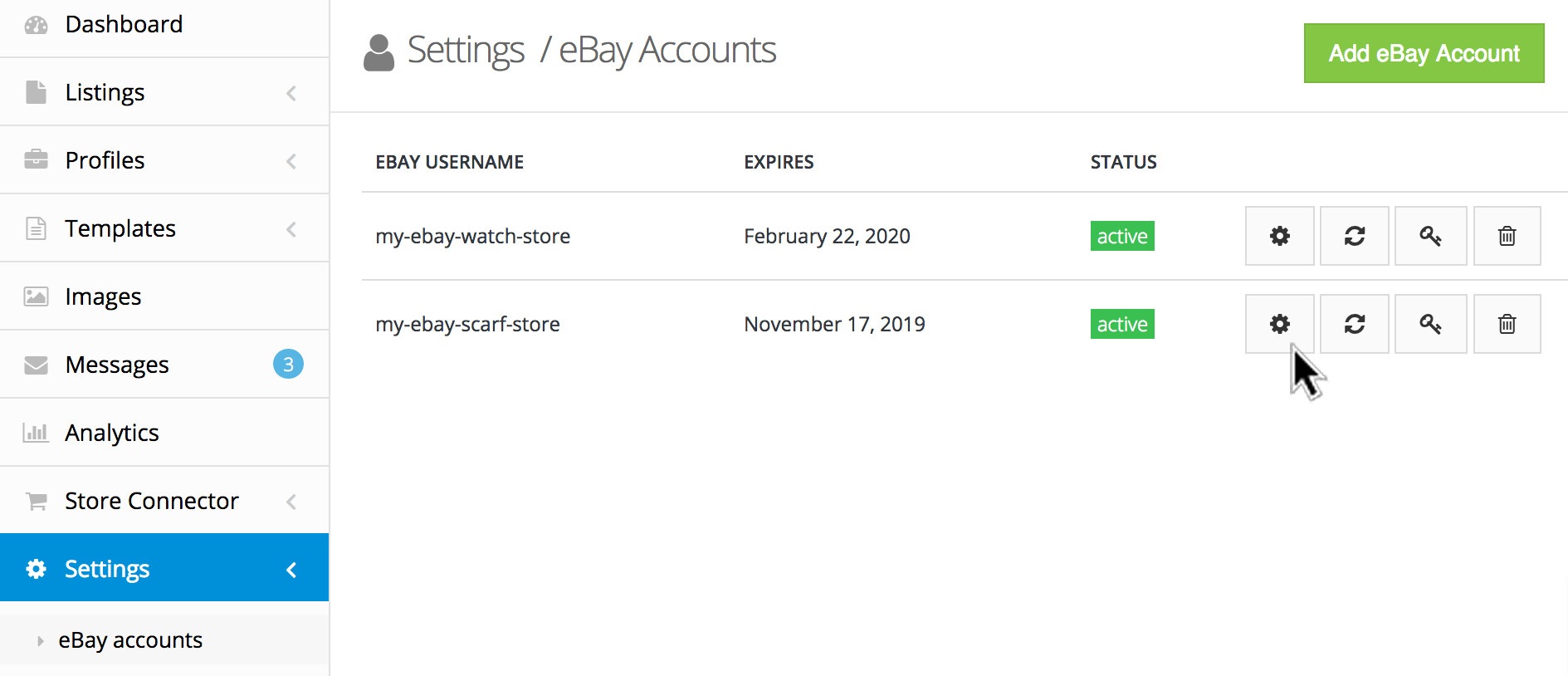 Click "Settings" → "eBay accounts" and then on the settings icon for a linked eBay account.
This will enable automatic feedback and reveal a series of entry boxes where you can enter the feedback comments that you'd like to use.

Switch the "Enable Automatic Customer Feedback" setting from the "OFF" to the "ON" position.
Enter a Series of Feedback Comments
Now, enter five feedback comments that you'd like inkFrog to leave for shoppers that first leave positive feedback for you.
Defaults are provided, but it's best to take a moment to customize these comments for your own business. Doing this prevents the appearance that you're leaving generic feedback automatically, and enables you to take advantage of a branding opportunity.
Comments like "Frank's Inflatables thanks you for your business. Come see us again!" are likely to do more for your business over the long term than perfunctory and impersonal comments like "Thank you" can.
When you're done, click "Save" to save your updated settings and feedback comments.

After entering the feedback phrases you'd like to use, click "Save" to enable automatic feedback.
That's All There Is to It!
Once you've saved your updated settings, inkFrog will automatically handle feedback for you.
When shoppers leave positive feedback after a sale, inkFrog will respond in kind with positive feedback for them, rotating your comments from amongst the five that you've entered.
From now on, you'll be able to continue to focus on the things at the top of your to-do list, without feeling guilt at the fact that you're behind in leaving feedback.
Don't have an inkFrog account yet? Maybe now is the time to get one!
Want tips + tricks?
Join the Newsletter